With April now at an end, we caught up with our VApril heroes to find out how they got on during their month-long vaping journey. Have any of them managed to say goodbye to smoking in favour of e-cigarettes?
After smoking for eight years, here's how Iain Irving found his vaping experience.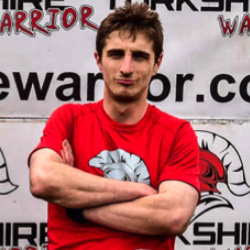 Iain Irving
26 years old
IT Systems Administrator
Leicester
1. How have you found your VApril journey?
The initial transition from smoking to vaping was the difficult bit, but when it became a habit to vape, I didn't really notice much difference! After 1-2 weeks I noticed I felt a lot healthier and I seemed to have more energy.
While there were a couple of times where I slipped up and had a cigarette, it was about the environment – i.e. going to the pub for a pint made me want to smoke. It was about the situation rather than being stressed or craving cigarettes.
Overall, I feel it has been a positive experience, and something I will try to keep up with. The liquid that we received at the start of the month is still lasting, but I think I will get some of the lower nicotine vapes to try and see if I can reduce the amount of nicotine I am taking with each vape!
2. On a scale of 1-10, how easy have you found the whole experience? (10 being really easy, 5 being moderate, 1 being really difficult)
I'd give it a 9 out of 10. While there have been times where I slipped up, the experience has been very positive, and has allowed me to almost completely stop smoking. I think it will be a while longer before I can feel comfortable going out without taking my vape, but it's definitely better than cigarettes!
3. What has been your favourite flavour (or mix of flavours), throughout the month?
I think my favourite flavour is either the Cherry Burst or the Latte Coffee, as they are both flavours you can keep going back to and they don't get boring.
They also don't linger around too much if, like me, you like to change the flavour a lot!
4. If you could try any flavour, what would it be? (The crazier the better!)
I would love to try a zingy fruit combination – maybe raspberry, lime and orange. I think that would taste really nice and be good to try!
5. This time next month, where do you hope to be in terms of smoking/vaping?
I will hopefully just be using my vape after another month. Goodbye cigarettes!
6. This time next year, where do you hope to be in terms of smoking/vaping?
I hope to not be using either my vape or my cigarettes, either! But I don't know how likely it is to happen because I do enjoy vaping, and I don't know if I will be able to stop both completely.
7. Based on your experience throughout the whole month, would you recommend vaping to someone you know?
Yes, I think my experience has been a positive one. I think that it would help a lot of people cut down smoking, or at least look at their smoking habit a bit differently.
8. If you could describe your vaping journey in 3 words, what would they be?
Tasty cloud adventure!
9. How supportive were friends/family throughout the month?
My friends were very supportive, as some of them already use vapes. My family would prefer me not to smoke at all!
Favourite flavours:
Cherry Burst
Pink Lemonade
Latte Coffee
Congratulations, Iain! And thanks for sharing your experience with us.
Want to find out how the rest of our VApril heroes got on? Keep checking back as we'll be posting the rest of their journeys throughout the week.