April has come to an end which can mean only one thing: it's time to find out how our VApril heroes got on. How did they find their vaping experience? And have they managed to combat those cigarette cravings?
Ana is one of our long-term smokers, trying to kick the habit after 30 years. So, let's find out how she found her VApril journey.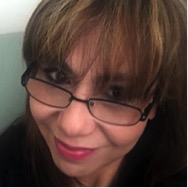 Ana Leckenby
40s
Digital Marketing
York (originally from Mexico)
1. How have you found your VApril journey?
I was in hospital the week before starting the vaping journey, where I was given nicotine patches. This meant the transition to vaping was easy as it felt like I was smoking again.
I had a funny sensation in my throat which went away in about 5-7 days – I learned it is this period that puts people off vaping. During this first week, I had no slip ups. Then by the second or third week, I felt like experimenting with more flavours
Stress and being at home a lot of time made me crave for a real cigarette, which I tried but I must confess it tasted weird and I could not finish it.
What I would like to try now is getting a second e-cigarette (to ensure I always have a fully charged one) and get liquids with half the amount of nicotine to see how I get on. I have not missed the smell of cigarettes around me or on my clothes, so I feel hopeful I can continue the journey a bit further.
2. On a scale of 1-10, how easy have you found the whole experience? (10 being really easy, 5 being moderate, 1 being really difficult)
I've give it a 10.
3. What has been your favourite flavour (or mix of flavours), throughout the month?
Apple crunch was the best one, however I also like strawberry and pink lemonade with ice.
4. If you could try any flavour, what would it be? (The crazier the better!)
Margarita cocktail or prosecco!
5. This time next month, where do you hope to be in terms of smoking/vaping?
I hope I can be still vaping with a reduced amount of nicotine until I manage to get to 0. I plan to reduce it by 50% per month.
6. This time next year, where do you hope to be in terms of smoking/vaping?
I hope I will be nicotine free and vaping 0 nicotine, only.
7. Based on your experience throughout the whole month, would you recommend vaping to someone you know?
Yes. It is something you need to get used to, but once you pass the itchiness in the throat it is easy, especially when there are so many delicious flavours available.
8. If you could describe your vaping journey in 3 words, what would they be?
Easy, natural, convenient.
9. How supportive were friends/family throughout the month?
They were supportive.
Favourite flavours:
Strawberry
Pink Lemonade
Apple Crunch
Well done, Ana, on your amazing VApril journey!
Want to find out how the rest of our VApril heroes got on? Keep checking back as we'll be posting the rest of their journeys throughout the week.