During April our VApril Heroes ditched their traditional cigarettes in favour of vaping. Did they make the grade? Or did they fail miserably? Let's find out from one of them.
As a smoker of four years, Zoe was worried about getting wrinkles and stained teeth – which was why she was only too happy to become one of our VApril Heroes.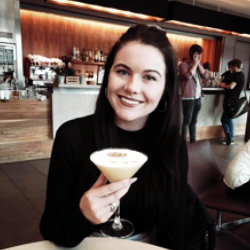 Zoe Schofield
25years old
Public Relations
Isle of Man
1. How have you found your VApril journey?
At first, I found it quite difficult at the weekends when I had had a drink, but as the month went on it became easier to just use the vape the whole time.
The sweet flavours also helped me cut out the sugary cravings I used to have after meal times. So, overall, it went well and I felt a definite improvement in my wellbeing as the month progressed.
2. On a scale of 1-10, how easy have you found the whole experience? (10 being really easy, 5 being moderate, 1 being really difficult)
Because of weekends, I would have to say about 3. But that's my overall rating. And at other times I found it much easier.
3. What has been your favourite flavour (or mix of flavours), throughout the month?
My favourite flavour has been menthol. I really enjoy the burst of freshness that it gives you.
4. If you could try any flavour, what would it be? (The crazier the better!)
Chocolate orange. For me, that's the perfect sweet treat and it always reminds me of Christmas. So many happy memories!
5. This time next month, where do you hope to be in terms of smoking/vaping?
My plan is to only smoke cigarettes occasionally – for example, at a friend's birthday night out.
6. This time next year, where do you hope to be in terms of smoking/vaping?
Ideally, in a year's time I will be completely tobacco-free. I will probably still vape, as I like the flavours. If chocolate orange is available, I will almost certainly still count myself as a vaping aficionado!
7. Based on your experience throughout the whole month, would you recommend vaping to someone you know?
Yes, definitely. It's helping me to curb my smoking habit and I'm sure it can do the same for others.
8. If you could describe your vaping journey in 3 words, what would they be?
Feel healthier overall.
9. How supportive were friends/family throughout the month?
I wanted to see if I could take on the VApril Challenge on my own, so I didn't really involve anyone else.
Favourite flavours:
Tutti Frutti
Caramel
Strawberry
Thank you so much for the interview, Zoe. May your vaping journey continue to be a success!
If you would like to keep track of our VApril Heroes, make sure to bookmark our blog. We'll be featuring additional interviews with them and featuring all sorts of other articles about the vaping life.